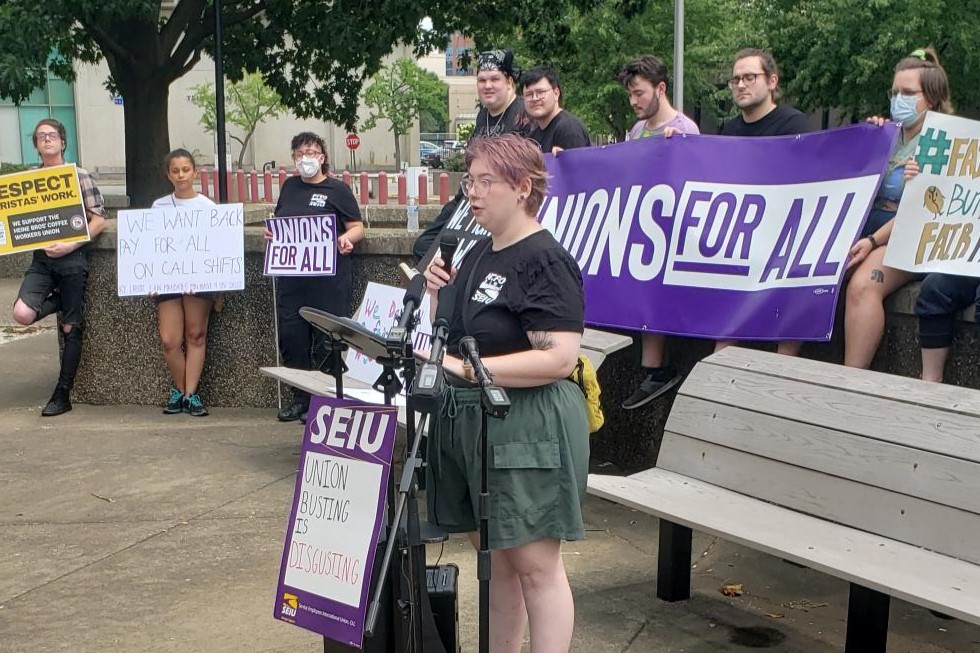 UNION VICTORY! 2ND LARGEST BARISTA UNION IN THE COUNTRY IS NOW HEINE BROTHERS COFFEE WORKERS' UNION IN LOUISVILLE, KY
Heine Brothers' Coffee workers, organizing with NCFO 32BJ SEIU, won their union election with a significant majority last night. The workers will now sit at the bargaining table with their employer and negotiate a fair contract for all Heine Brothers' workers.
"Since we knocked on the union's door six months ago, our goal has always been to organize a better workplace for ourselves and for our coworkers. We love our jobs, and we love each other. That is why we started organizing and that is the strength and unity that won us this union election," said Sabrina Lindsey, Heine Brothers barista.
Workers announced their intent to unionize in April of this year. The organizing workers decided to organize all 17 (formerly 18) Heine Brothers stores because workers are all facing the same issues across the company, and workers also pick up shifts at multiple store locations.
At a victory party after the close of the election, workers gathered to hear the news that they are the second largest group of baristas to organize across the country.
"Winning this election means so much to all of us who have spent months organizing, talking to our coworkers, and bringing our friends and coworkers together to fight for something bigger than ourselves but that we will all benefit from. We owe so much to the generations of undervalued workers and the union organizers who came before us, and we are honored to carry on this fight in their honor. This win means that we get to sit down with Heine Brothers' corporate and negotiate a contract that gives us the living wages we need, the schedules that allow us to plan our lives outside of work, and the power to have our voices heard in our workplaces to make effective change," said Gami Ray, Heine Brothers' worker.
Newly unionized Heine Brothers' Coffee baristas hope to begin bargaining in good faith with their employer for a fair contract as soon as possible.